Ok...
I thought linux and os's are in a degree where they could not still do such things..
Maybe it's because you get confident from all the time you sit in front of your box..
I just losed my home..
Yes sad but true.
And here is how it all started..
It is a debian lenny beta 2 xfce linux.. So you know, one of the first things that users tend to do in their os is to create shortcuts on the desktop.This a VERY VERY common practice. In ubuntu there is on the right click menu the magic action "Create launcher".
But NOT on debian.In fact you could get to this action if you right click on a shortcut that is already there. But this is the last thing you could imagine :
To create a new shortcut you have to right click on an existing one!!!
So I don't remember where but I read that if you drag n drop a folder to the desktop it will create a link to this location. So while drag n droping my home from the mint partition to debian lenny desktop, a message appeared that it could not do a thing.Maybe it was telling me that it could not move a file. Well it's one of those messages you read but dont fully realize what they say , so you click "OK" or "Cancel" and continue.
Well as you realize I lost all my home.
Yes xfce failed to move a file ( i thought it was just linking ) so all the source and destination files are gone.
Folders exist but with no files inside.
YES.
IT IS GONE.
The folders are still there but ALL tHE FILES have disappeared.
Because if something goes wrong - and yes , you misunderstood or this fucking thing misunderstood that instead of creating a link you are moving the whole folder - then all files are wiped.
HOW NICE of YOURS.
HEy xfce!!!
You are nice but where is my FUCKIN HOME?
To create a new shortcut on desktop you have to right click on an existing one!!!

thk Τετ. 10 Σεπ. 2008 14:21

κομπιούτερ
0

views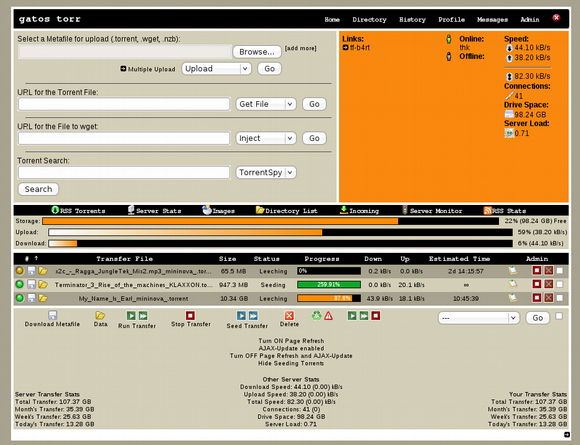 A theme I ve made for torrentflux-b4rt , read more
here

My torrent client is
torrentflux-b4rt
. The frontend is written in php and as you understand we are talking about a web interface here.
The nice thing about web applications is that you can access them from everywhere . You are in your laptop and suddenly it struck you to download that movie ? Open firefox and go to your "local network all the time open" pc and submit the new torrent to torrentflux. You are in your work?Why not steal some time (not much just 5 hours) and find some torrents to download? ?Why not download something to be ready when you arrive back home...
So, this is a theme I ve made for torrentflux 2+:
Download thk theme
Extract it in torrentflux installation under html/themes, then choose thk as theme in your profile.
then as usual stand up on your chair and shout : hip hip hooray!
Αν δεν βλέπετε ελληνικους υπότιτλους με το kaffeine και γενικά με το xine ,κλείστε το kaffeine , και καντε copy paste το παρακάτω ματζούνι στη κονσόλα σας και σταυρώστε τα δακτυλάκια σας

curdir=`pwd`
cd ~
wget http://www.kaotonik.net/home/mari@pi/arial-xine/download -O arial-xine.tar.gz
mkdir -p ~/.xine/fonts
cd ~/.xine/fonts
cp ~/arial-xine.tar.gz ./
tar xvzf arial-xine.tar.gz
cp ~/.xine/config ~/.xine/config.bak

tmp=`mktemp`
sed 's/.*subtitles.separate.src_encoding.*/subtitles.separate.src_encoding:iso-8859-7/' ~/.xine/config > $tmp
cp $tmp ~/.xine/config
sed 's/.*subtitles.separate.subtitle_size.*/subtitles.separate.subtitle_size:normal/' ~/.xine/config > $tmp
cp $tmp ~/.xine/config
sed 's/.*subtitles.separate.font.*/subtitles.separate.font:arial/' ~/.xine/config > $tmp
cp $tmp ~/.xine/config
sed 's/.*subtitles.separate.use_unscaled_osd.*/subtitles.separate.use_unscaled_osd:0/' ~/.xine/config > $tmp
cp $tmp ~/.xine/config

rm $tmp
cd $curdir